An outdoor SPA that is second to none
A little paradise amidst greenery. Far away from the crowds, the traffic, and the hustle and bustle of everyday life. All that matters is here and now. The outdoor SPA of our Hotel BERGEBLICK is simply indescribable – it's a kingdom of regeneration, a place of delight and relaxation amidst the Bavarian Prealps. Enjoy this ultimate experience to the fullest and find long-lasting relaxation. You're going to love it.
Our Bio Relax outdoor pool with its incredible sun deck, surrounded by meadows and forest, is simply unique. We provide the necessary heat for the pool in an eco-friendly way thanks to our wood-chip system. All you have to do is dive in the water, relax, and enjoy the mountain view. The Bio Living pool awaits you with its 14x4m – and that's plenty for your hideaway BERGEBLICK, because that way we guarantee everyone a relaxing place to lie or sit right by the water.
A pool that looks as if it's been carved out of the rock, filled with refreshing organic water, with a view of the sky, of amazing raindrops, or snowflakes. A childhood dream. If you're looking for refreshment after your last sauna session, this is the place where your dreams come true.
Ready to bathe in pure well-being?
Senses House & Zen meditation
What are you seeking? An open, light-flooded relaxation room with a view of Blomberg, Benediktenwand, or Brauneck? A place of regeneration and peace amidst unspoilt nature? Time and space for your yoga and meditation sessions? Congratulations, you've found it!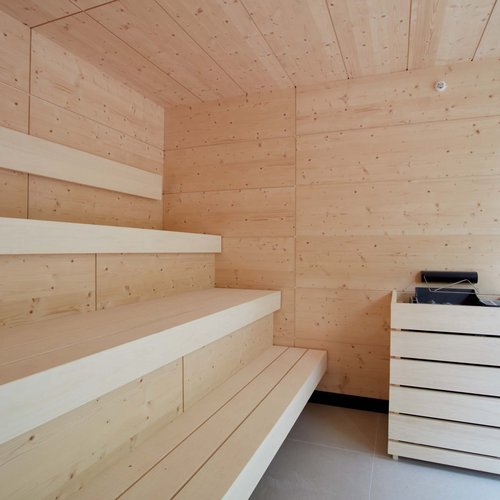 Finnish sauna (90°C)
Organic sauna (60°C)