Your wellness hotel in Bad Tölz with a view
Once you've enjoyed a holiday at our wellness hotel in Bad Tölz, BERGEBLICK, you'll never want to go anywhere else. Because we give you space to relax and unwind, space to wonder and feel good, and plenty of time to enjoy. In an absolute dream location in Wackersberg, with a magnificent view over Bad Tölz and of the peaks of the Bavarian Prealps, our Hotel BERGEBLICK awaits you with a completely new dimension of holiday. Always in harmony with nature. Always unforgettably beautiful. We promise! And the best part: You can start your hiking tours in Bad Tölz and your biking adventures directly from our hotel in Bad Tölz – regenerate in the nearby forest or reach the park, the Isar river, or the centre of Bad Tölz in a 15-minute walk. You also have so many hideaways in the hotel and in the surrounding area – simply wonderful. You don't (necessarily!) need your car. Get to know our hotel and enjoy it.
Holiday in Bad Tölz: your wellness hotel amidst nature
Quiet location with unspoilt forest and mountain views far away from large roads
Within walking distance of the climatic health resort and spa town Bad Tölz
Spacious garden to rest, relax, and enjoy
Unique Senses House for peaceful, delightful moments
SPACE TO RELAX AND UNWIND
Space, freedom, and authenticity characterise your holiday at our Hotel BERGEBLICK in Bad Tölz – regardless of whether you prefer to enjoy your holiday in a comfortable room, in a fine suite, or in one of our luxury lodges in Bavaria. We bring nature directly into our hotel thanks to large panoramic windows, minimalistic design, and plenty of wood, and give the Bavarian Alpine lifestyle a modern touch. For a totally new feeling of well-being.
Taste: refreshingly different
Rich breakfast buffet with regional quality products
For a light bite in the evening: Bavarian snack with hearty and sweet delicacies (upon request and for a fee)
Senses Sundowner lounge with spectacular views as well as drinks and snacks
Vitality corner with fruit and drinks in the Senses SPA of our wellness hotel in Bad Tölz
SPACE TO WONDER AND FEEL GOOD
Dive into a kingdom of peace, where happiness is the order of the day. Harmonious and in tune with nature, the Senses SPA of our wellness hotel in Bad Tölz blends with the surrounding, unspoilt landscape, the indoor with the outdoor, the past with traditions and customs. Simply incredible!
Senses SPA: over 500m² of pure well-being
Indoor SPA with saunas and beauty lounge
Outdoor SPA with pool, meditation house, and Bavarian plunge pool
Senses beauty lounge and premium dermo-cosmetics by REVIDERM
Nature Gym with high-quality wooden equipment by NOHrD
Or you can experience the barefoot path: a natural foot reflexology massage!
In one of Germany's most beautiful natural landscapes, it's easy to leave everyday life aside and take the path of happiness. This leads you directly from the front door of our wellness hotel in Bad Tölz on exciting, easy hiking and biking trails or up to amazing peaks, glittering lakes, and heavenly places. And if you prefer to enjoy your day at our Hotel BERGEBLICK, you can find your personal Zen at the Senses House. Enjoy your relaxation area and start off with a session in the unique meditation room: You're by yourself, almost in the dark, and with an atmosphere that is unlike any other. Take advantage of the sauna, infrared cabin, and pool. Let them work their magic and enjoy a back-to-the-roots experience – then find your favourite, exclusive hideaway. Everything's designed for privacy – no crowds – only wows – quiet and delight in a particularly unique form.
Experiences: for body and soul
from
€139.00
per person
incl. breakfast
from
€159.00
per person
incl. breakfast
from
€199.00
per person
incl. breakfast
from
€219.00
per person
incl. breakfast
from
€219.00
per person
incl. breakfast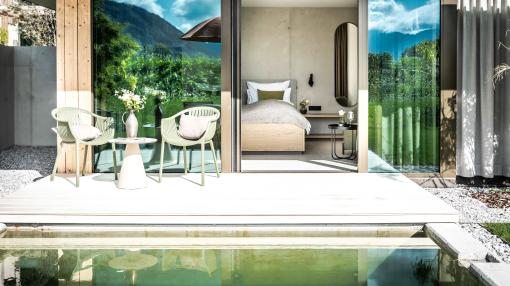 from
€219.00
per person
incl. breakfast