Hotel BERGEBLICK: Come up to slow down.
Our Hotel BERGEBLICK is situated in an absolute dream location: directly in the forest, in the middle of nature, and with a wonderful view of the majestic peaks of the Alps. It's a place of absolute freedom and happiness in the Bavarian Prealps.
Enjoy a holiday of a very special kind: one that's in harmony with nature and is both regenerating and fascinating. We look forward to welcoming you!
YOUR HOLIDAY HAVEN ABOVE THE ROOFTOPS OF BAD TÖLZ
As generous as the landscape that surrounds us and as free as the view that awaits you – Hotel BERGEBLICK turns your wildest dreams into a wonderful reality. Here, you'll spend time in and with nature: Sustainability and authenticity distinguish our rooms, suites, and lodges. Undisturbed peace, plenty of privacy, and magnificent views of the Bavarian Prealps accompany you from sunrise to sunset, which is especially beautiful at our Sundowner Lounge.
from
€139.00
per person
incl. breakfast
from
€159.00
per person
incl. breakfast
from
€199.00
per person
incl. breakfast
from
€219.00
per person
incl. breakfast
from
€219.00
per person
incl. breakfast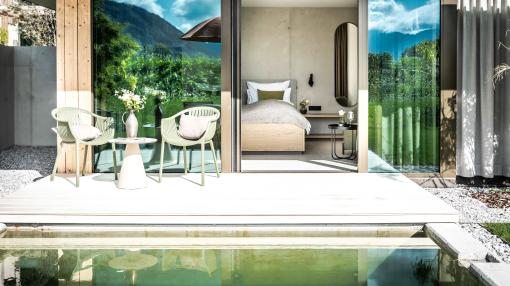 from
€219.00
per person
incl. breakfast
Senses SPA: an experience for all the senses
An indoor SPA that liberates the soul and lends wings to the body. An outdoor SPA far away from the crowds and from the hustle and bustle of everyday life. A spa paradise right by the forest, right at the heart of well-being. Welcome to our Senses SPA, the home of wellness joy, where you'll finally find time for yourself and for your needs. Dive into the sustainable Bio Relax outdoor pool, work out in our Nature gym, gently sweat in our saunas, find your centre in the meditation house, and let your outer beauty shine in the beauty lounge.
You deserve it.
Well-being in and with nature
Discover and experience the most beautiful places, the most spectacular natural views, and the hidden beauties of Bavaria right outside our Hotel BERGEBLICK. Wide meadows, dense forests, imposing peaks, and picturesque lakes entice you outside for year-round outdoor activities. All that matters is this very moment as you finally become one with your dreams on the path to pure happiness.
So, take your hiking boots out of the closet, your bike out of the basement, and your skis in your hands – it's time for some action!
Just a moment - the content is loading …